MANCHESTER, N.H. —
The number of drug overdose deaths in New Hampshire's two largest cities is down.
"That is encouraging news, that less people are dying from overdoses," Chris Stawasz, AMR regional director, said.
>> Download the FREE WMUR app
In Manchester, overdose deaths dropped 26 percent compared to the same time last year. In Nashua, they are down by 2 percent.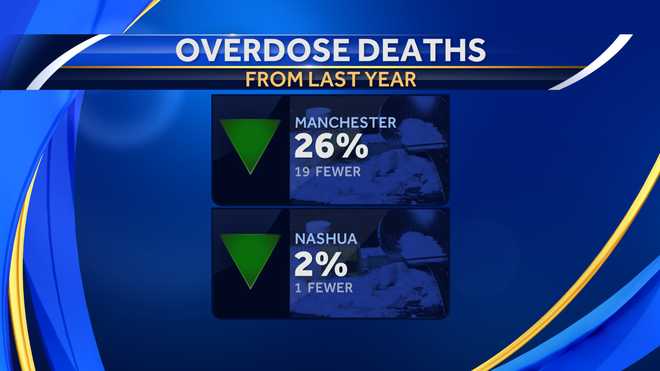 Emergency response officials said they believe there are two factors contributing to the drop.
"I think it's a combination of efforts of Narcan that has been distributed virtually everywhere in the state, making it widely available, and the efforts of the Safe Station program," Stawasz said.
The Safe Station program allows people struggling with addiction to go into city fire stations to get access to help at treatment centers, such as GateHouse Treatment in Nashua.
"I think more services have allowed us to grow and help work with the city and state to offer more services to the people who need it the most," Ed McDonough, CEO of GateHouse Treatment, said.
McDonough said, while the numbers are encouraging, many continue to struggle with addiction, and AMR's numbers show overall overdoses increased in the same period by 11 percent in Manchester and by 9 percent in Nashua.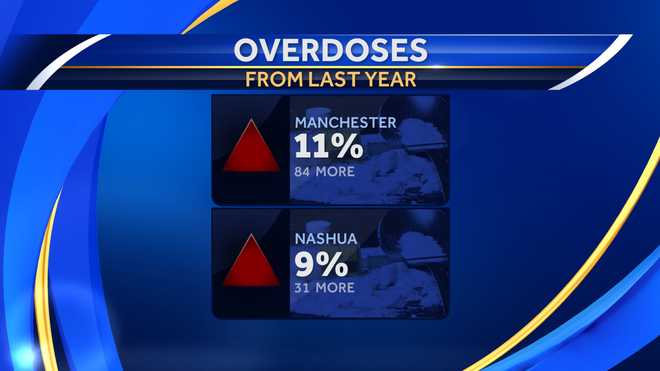 "That average age is still 18 to 29. Many people are still trying to overcome, especially with opiates. It's still 90 percent of our caseload here," McDonough said.
Those on the front lines of the crisis are hopeful the drop in overdose deaths will continue.
"We have seen months where overdoses have been down before, but this is a statistical stretch and period, time of year, that we are down, so I am hopeful that it's going to continue," Stawasz said.
Officials said that since the Safe Station program started in Manchester and Nashua, it has been used more than 5,000 times.